In our times, not being online means leaving money on the table – no matter what business you run. Especially when it's so easy to build a website by yourself. I mean, okay, in the worst-case scenario, a friend, your nephew, or a colleague will come to the rescue. The point is that you won't need to hire and pay a developer to do this for you.
That's because the market is full of great, cheap website builders for all budgets and goals! You just need to follow the setup steps, and your site will be up before you know it. But the question is "How do I choose the cheapest website builder when there are so many options out there?"
We're here to help you compare the best options and pick your ideal cheapest website builder. We've selected seven of the top low-priced solutions. Below, you'll find the summaries of what each of them is about, along with some advice on how to pick the one that's going to be the best for you.
(Most of these cheapest website builders come with a free version, too.)
Looking for the best cheapest website builder: your top options
⚙️ Main features
Responsive design.
Built for one-page websites.
Gives you the possibility to create three sites per account/license.
Premium templates and URLs.
Allows you to use media elements like large images, videos, custom icons, slideshows.
Integration with third-party form builders, widgets, and custom code.
Over 50 design elements for your site.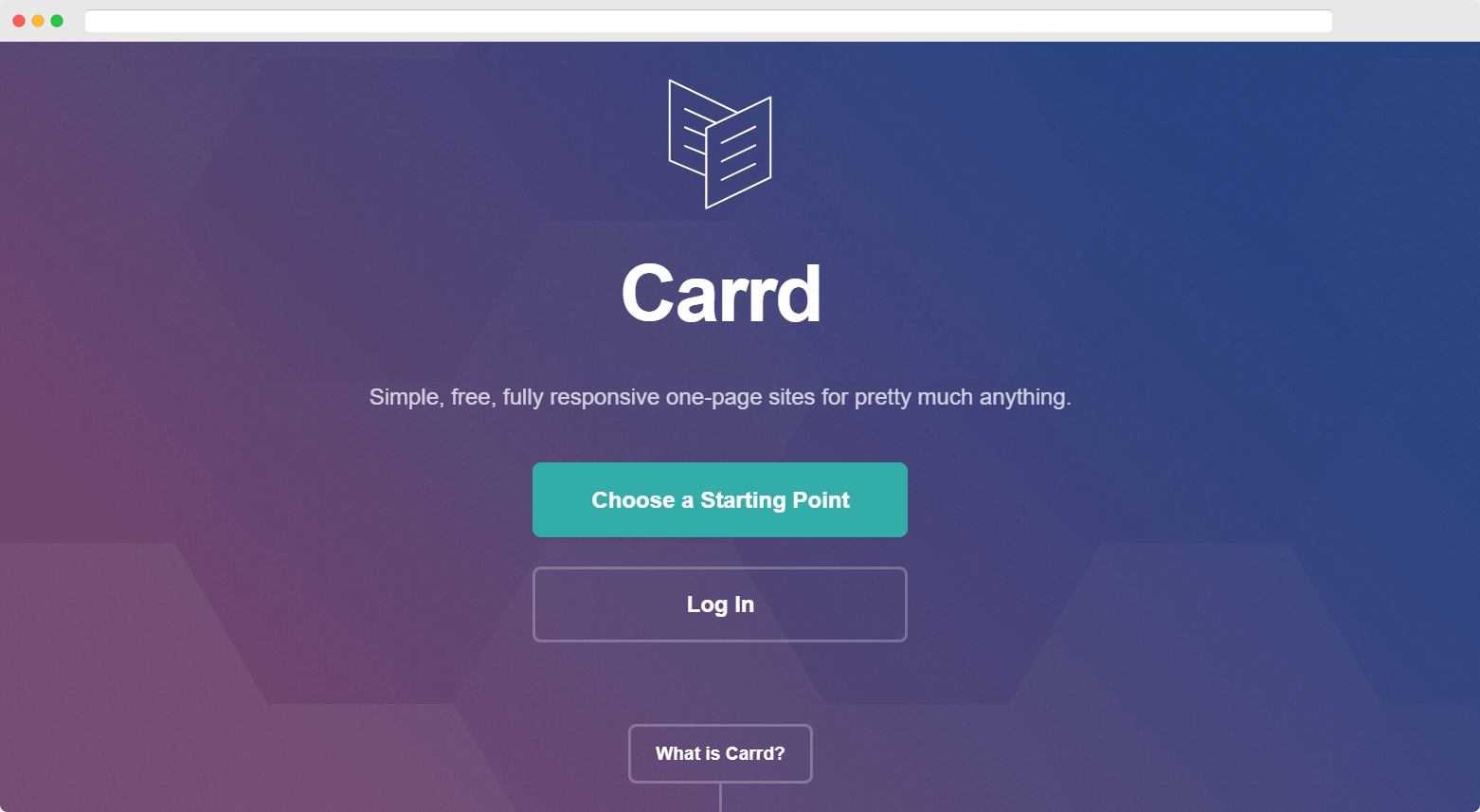 👍 Pros
It's the cheapest website builder you will find out there.
The builder is easy to use and quite intuitive.
It lets you create your own templates from scratch.
👎 Cons
It's limited to one-page sites. If you want to build many different pages, you won't be able to.
The templates offer limited options when it comes to designs and elements; you can't build anything complex or get creative.
You can't track your visitors because it doesn't offer Google Analytics integration on the cheapest plan.
💸 Pricing
Free.
Pro Lite – $9 / year.
Pro Standard – $19 / year.
Pro Plus – $49 / year.
Carrd is the cheapest but also the most basic option on this list. It's great for people who are just starting their online journey with a simple website good for showcasing their professional profile and portfolio. Nothing fancy, nothing too complicated. Just a minimalist online presence to stress your skills.
⚙️ Main features
Unlimited domains.
Unlimited pages, disk space, and visitors.
Mobile-friendly.
Hosting included and in-depth analytics.
Automatic and manual backups.
350+ professional designs from 38 categories/niches.
It offers a drag-and-drop website builder.
Lets you add pages, pop-up windows, widgets, and blocks.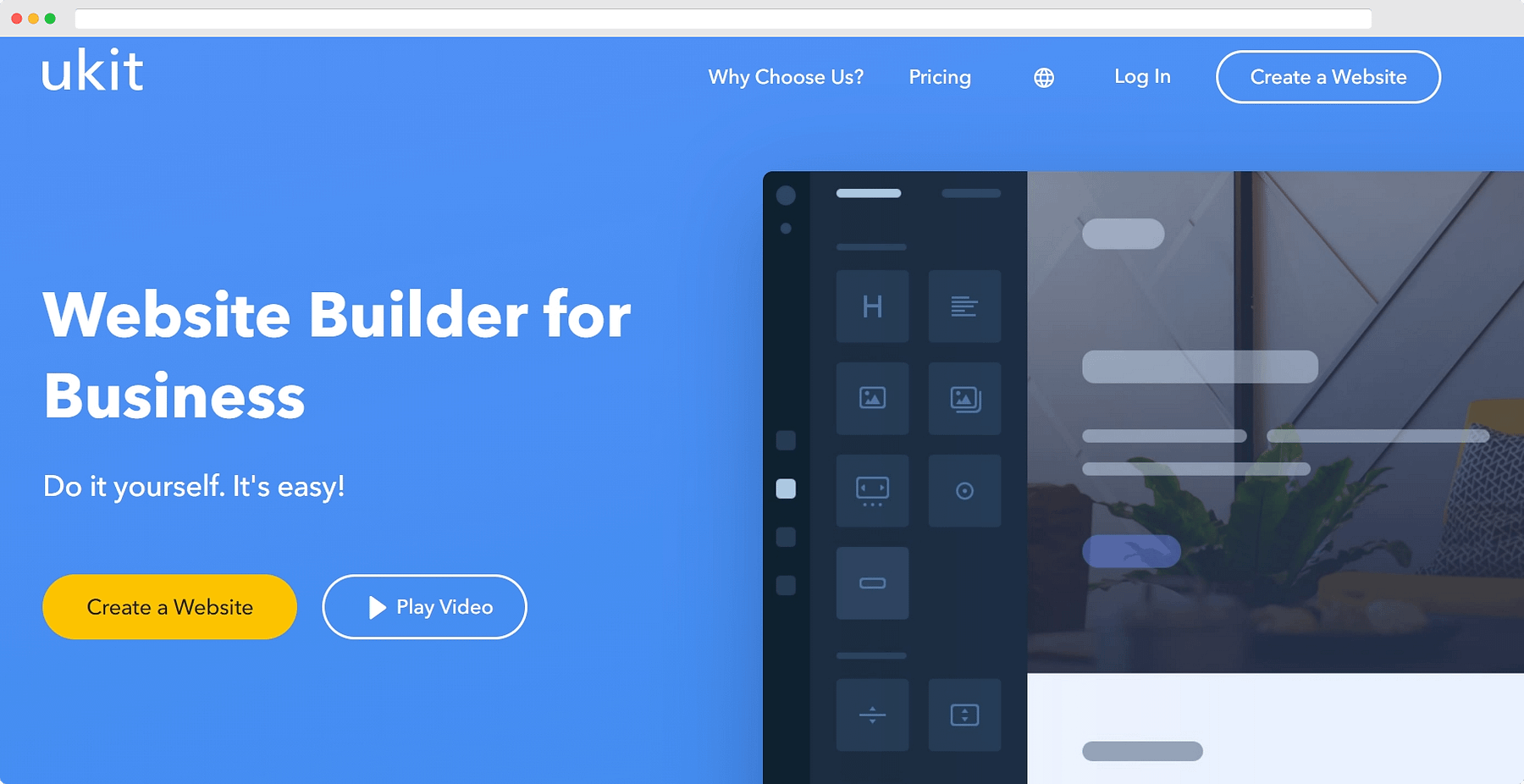 👍 Pros
The fact that you get unlimited disk space and visitors is a great advantage.
It provides a built-in wizard that lets you know when your website is ready to be promoted to the public by checking if vital site elements are complete.
The builder is intuitive, fast, and has a friendly look.
If you can't find a template to perfectly match your ideas, you can easily contact the team via the built-in form, and they will send you one that fits your criteria.
You can turn your Facebook page into a website (feature that you can find in the templates wizard). It will take all the existing Facebook content and arrange it to form an actual good-looking website.
👎 Cons
You can't create online stores unless you upgrade to the eCommerce plan.
You can't use custom color schemes except for the four default ones.
No live chat support.
💸 Pricing
Free
Minimal – $3.50 / month
Basic – $7 / month
eCommerce – $8.40 / month
Pro – $10.50 / month
uKit is great for startups and small businesses because it's affordable, good-looking, and comes with a bunch of features for promotion. So if you want to spread the word about your new business idea, uKit will probably do a great job for you. Its generous collection of niche templates will ease the process of finding the right design.
⚙️ Main features
Hosting included, along with domain name, and SSL certificate.
Drag-and-drop page builder.
Website analytics to get information about your visitors.
Over 200 free customizable templates.
Chat, email, and phone support.
A library of high-quality stock photos integrated in the interface, that you can freely use on your website.
Mobile-friendly design.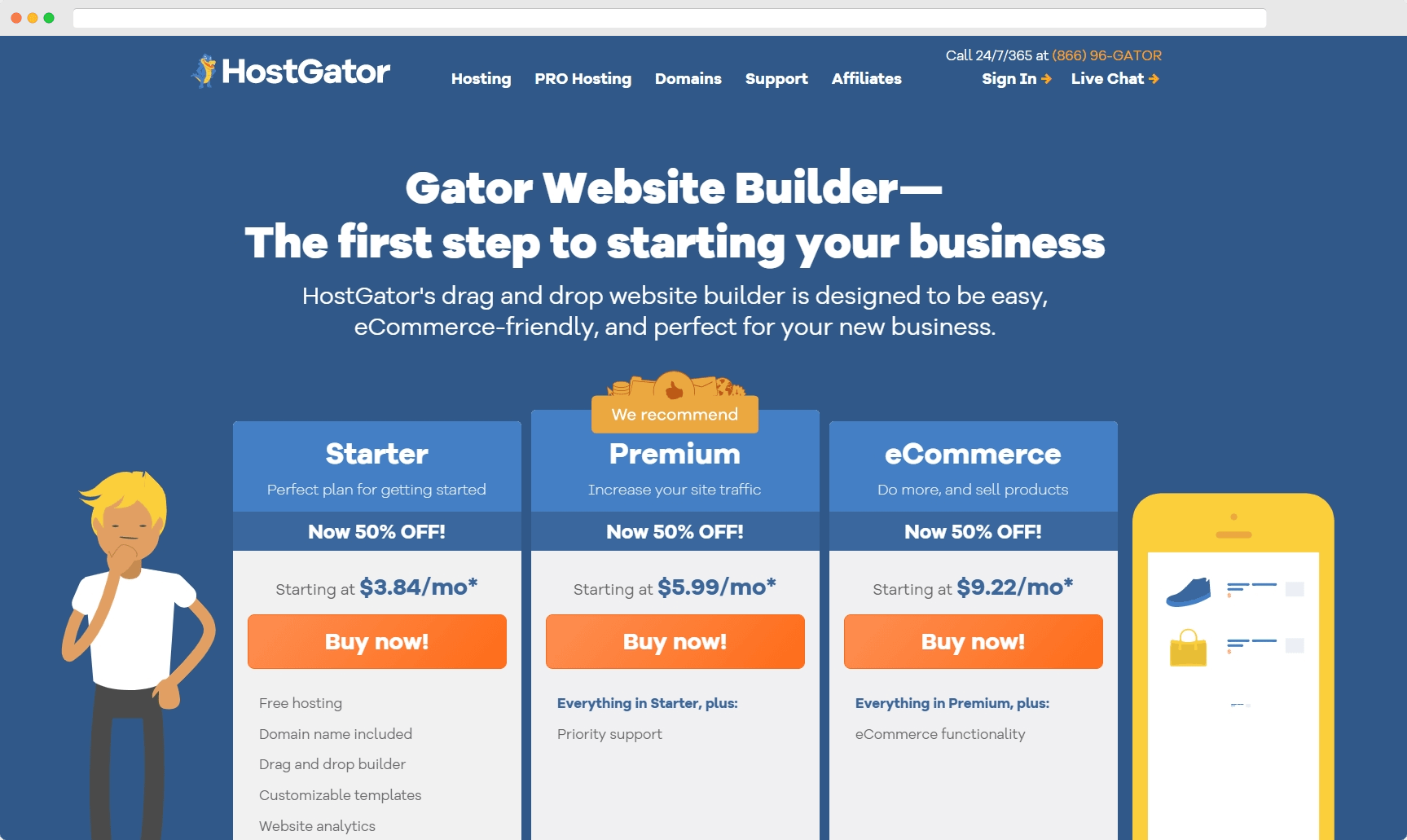 👍 Pros
You get advertisement vouchers of $200.
You can build unlimited pages and use unlimited storage and bandwidth on the cheapest plan, which is great.
In the basic plan, you have access to most of the features, with no major exceptions apart from eCommerce and priority support.
👎 Cons
You are not able to use advanced eCommerce functionality on the cheap plan.
It doesn't have a free version like the other builders on the list.
The templates fall under five general categories (you can't filter by niche) and are a bit too basic when it comes to design and appearance.
💸 Pricing
Starter – $3.84/month
Premium – $5.99/month
eCommerce – $9.22/month
Both pros and beginners will enjoy building a site with Gator, so no matter if you want to make a resume/portfolio for yourself or launch a beautiful site for your business, this website builder is worth a look.
⚙️ Main features
A collection of hundreds of customizable themes for all purposes and niches. New themes are added weekly.
Mobile-friendly.
Hosting included.
Visual and code-based editors.
Built-in statistics about your visitors.
Access to email and live chat support.
WordPress.com Reader community page (aka news feed) where people can find your content and interact with it (like, share, subscribe to your profile).
SSL certificate included.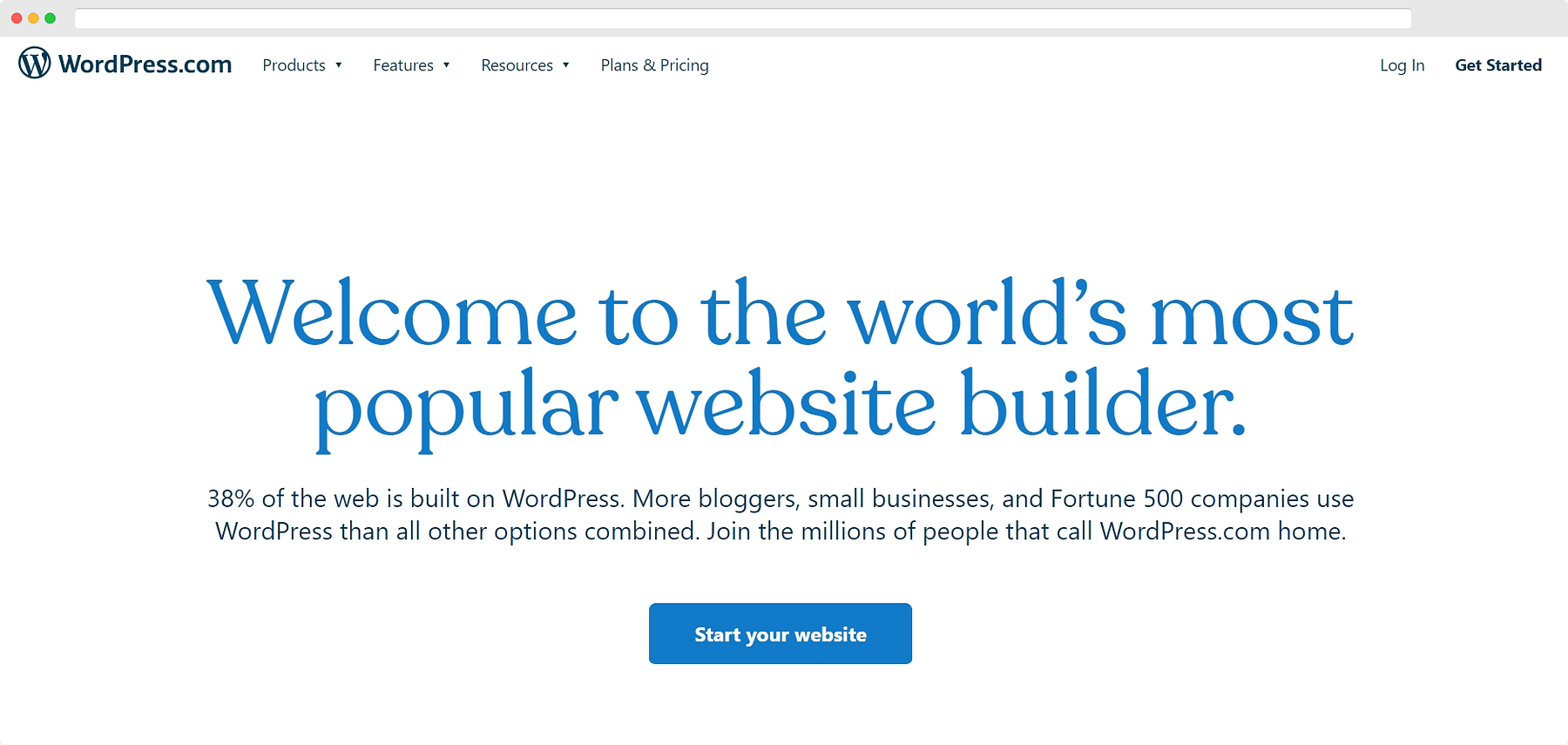 👍 Pros
The visual editor is based on "blocks", which makes building your pages easier and more intuitive.
The onboarding is great and makes setting things up a breeze.
The interface is flexible, allowing you to build blogs, business sites, portfolios, and niche websites.
Comes with essential features such as security, marketing, design, backups, and SEO.
You get a free domain for one year.
👎 Cons
You can't install third-party plugins or themes except for the default ones.
You don't have access to premium themes; you get basic design customization.
The eCommerce functionality is not available on the cheapest plan.
💸 Pricing
Free
Personal – $4 / month
Premium – $8 / month
Business – $25 / month
eCommerce – $45 / month
WordPress is the most popular website builder on the web because it's a great match for bloggers, writers, business owners, and independent professionals alike. It's easy to manage and offers a large variety of designs for all purposes. The cheapest plan is more suitable for blogs and magazines, though. To be able to have full control of your site's customization, you'll need to upgrade.
⚙️ Main features
Drag-and-drop builder to create pages, elements, sections, shapers, and dynamic backgrounds.
Customizable, responsive templates and visual editor.
Custom domain name.
Visuals and multimedia: audio, video, code snippets, animations, photosets, lightboxes.
SEO options, traffic analytics, and sitemaps.
Hosting included and SSL certificate.
Mobile-friendly design.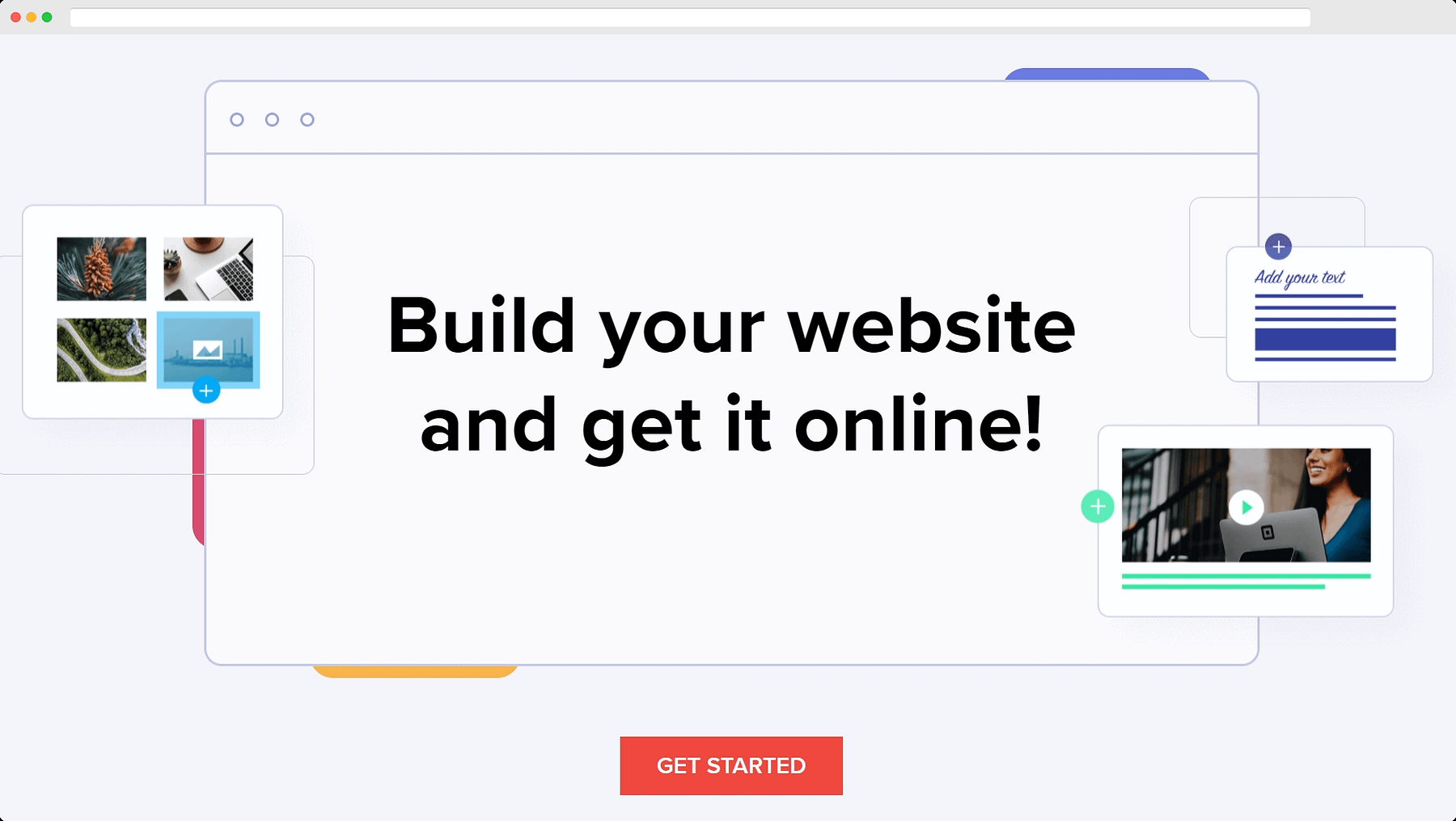 👍 Pros
You can build unlimited pages and use unlimited storage and bandwidth on the cheapest plan.
In the basic plan, you have access to a large range of features, with no major exceptions apart from eCommerce and priority support.
The builder is engaging, friendly, and is based on blocks. You can edit the content right on the front-end.
You can import/export blog content from/to blogging platforms like WordPress or Blogger.
👎 Cons
All the features in the basic plan are limited. As in, you get a big palette of options but each one comes with strict limitations. For instance, you can't upload files bigger than 10MB and you can't use more than five pages.
The storage is limited to 500MB.
You can't create custom menus or a single-page website.
💸 Pricing
Starter – $4.80 / month
Pro – $17.90 / month
Zoho Website Builder is a good option for small businesses that are not intending to create a big load of content apart from the basic pages and functionality that a site usually has. It comes with a few limitations, but, overall, the interface and the designs are modern and friendly.
⚙️ Main features
Hosting included plus a custom domain name.
SSL certificate.
Over 100 design features like animations, fonts, scroll effects, media galleries, video backgrounds, etc.
Tons of customizable multipurpose templates for businesses, stores, blogs, magazines, agencies, portfolios, etc.
Drag-and-drop website builder.
Mobile optimization.
Integration with web apps and add-ons.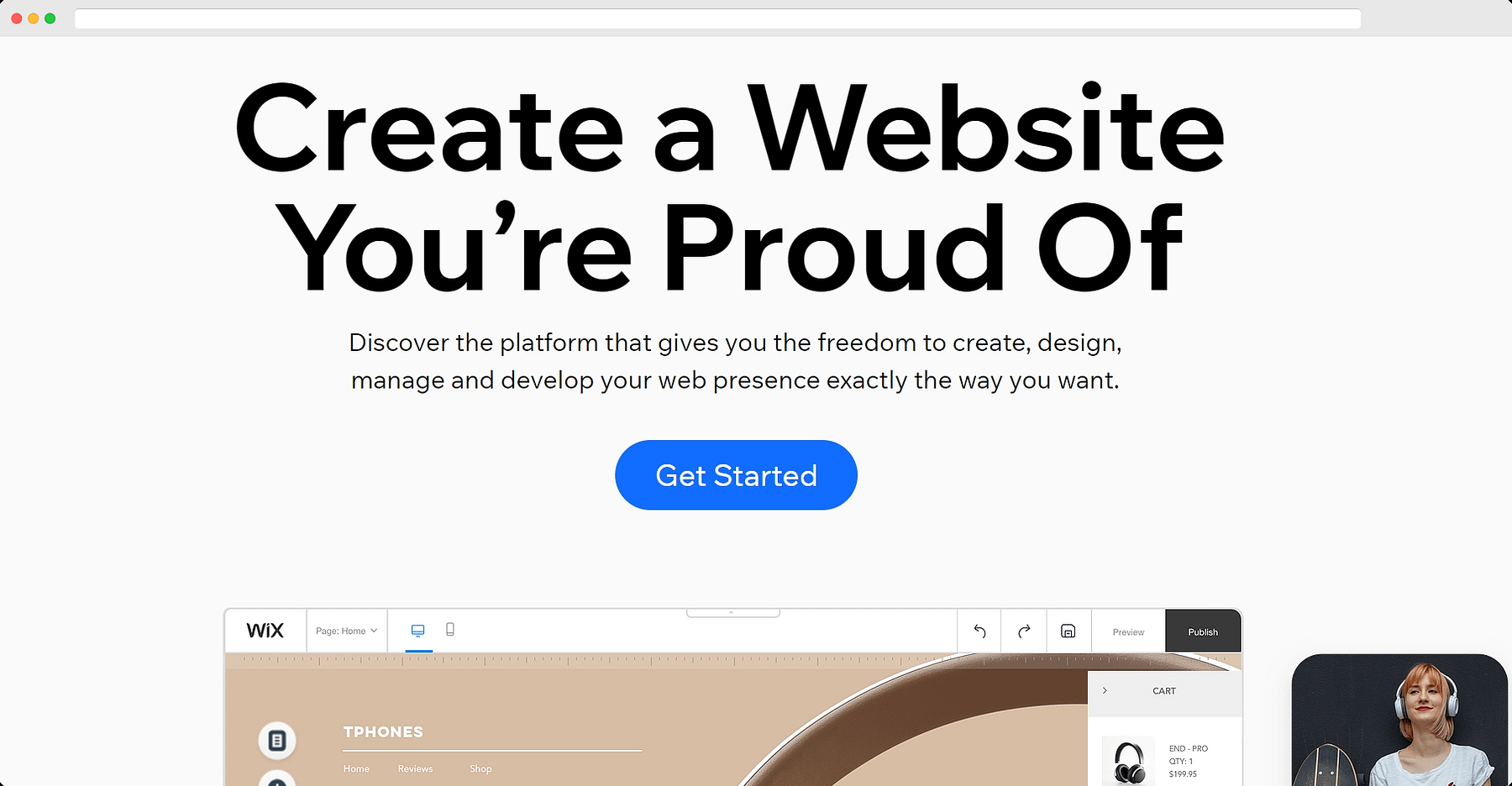 👍 Pros
You can choose to either use a pre-made template or build a site from scratch (blank page).
If you feel like you need guidance, you can just answer a few questions and the Wix Artificial Design Intelligence program will create a site that's closest to your needs.
It comes with built-in SEO options and tools for marketing, social media, and analytics.
If you happen to have development skills, you can tailor your site just the way you want by using the Wix Corvid code editor.
It has a flawless onboarding process and a beautiful, modern editor.
👎 Cons
The cheapest plan displays Wix's brand ads on your site.
You have to pay for the domain name separately.
In the basic plan, you get only 1GB of bandwidth and 500MB of storage.
💸 Pricing
Free
Connect Domain – $5 / month
Combo – $10 / month
Unlimited – $15 / month
VIP – $29 / month
Wix is a very straightforward website builder meant for business owners who want to get all the tech things done quickly but in a qualitative fashion. Wix is nice because it's easy to use, modern, beautiful, and intuitive to set up. If you are a business owner who wants to launch a nice site but without getting involved much in the logistics and development areas, Wix might be of help to you!
👉 Read also: Wix vs Shopify: which is better for eCommerce websites
⚙️ Main features
Hosting included, custom domain, and SSL security.
SEO optimization and community forums.
Chat and email support.
Lead capture and contact forms.
Drag-and-drop website builder.
Mobile apps from where you can manage and edit your site.
Responsive, professional themes with design features.
👍 Pros
You have access to photos for galleries, slideshows, and custom backgrounds.
The templates can be fully customized with drag-and-drop options.
It has an app center with third-party integrations for your site.
It provides a blog-friendly setup that creates one for you in minutes; you also get advanced blog management and customization.
👎 Cons
It doesn't have eCommerce functionality on the cheap plan.
The basic plan allows only 500MB of storage.
Even though you can connect to an existing domain, you have to pay $20 if you want to register a new one.
The builder has a bit of an outdated design vibe.
💸 Pricing
Free
Connect – $5 / month
Pro – $12 / month
Business – $25 / month
Similar to Wix, Weebly is a build-and-go tool, perfect for people who don't have any design skills but need an online presence for their business quickly. It's good for portfolios, basic business sites, and basic blogs. The interface is just not as appealing and modern as Wix's.
Final thoughts on the cheapest website builder
That has been our overview of what the cheapest website builder is in 2020 and what makes it great. At the end of the day, you know what your needs are much better than we do – what features you're looking for and what sort of price tag you're willing to swallow, so we're leaving the final choice to you!
Just to show you everything in one place, here's our final comparison table:
Best cheapest website builder in 2020

| Feature | Carrd | uKit | Gator | WordPress | Zoho | Wix | Weebly |
| --- | --- | --- | --- | --- | --- | --- | --- |
| Basic plan (/ month) | $0.75 | $3.50 | $3.84 | $4.00 | $4.80 | $5.00 | $5.00 |
| Free version | ✅ | ✅ | ❌ | ✅ | ❌ | ✅ | ✅ |
| Bandwidth on basic plan | Unmetered | Unmetered | Unmetered | Unmetered | 10GB | 1GB | Unmetered |
| Storage on basic plan | Unmetered | Unmetered | Unmetered | 6GB | 500MB | 500MB | 500MB |
| Drag and drop editor | ✅ | ✅ | ✅ | ❌ | ✅ | ✅ | ✅ |
| eCommerce functionality | ❌ | ❌ | ❌ | ❌ | ❌ | ❌ | ❌ |
| SEO features | ❌ | ✅ | ❌ | ✅ | ✅ | ✅ | ✅ |
| Integrations with popular tools | ❌ | ❌ | ✅ | ✅ | In-house tools only | ✅ | ✅ |
Which one of these cheapest website builders fits your business the best? Let us know in the comments section below!
…
Don't forget to join our crash course on speeding up your WordPress site. With some simple fixes, you can reduce your loading time by even 50-80%:
Or start the conversation in our Facebook group for WordPress professionals. Find answers, share tips, and get help from other WordPress experts. Join now (it's free)!